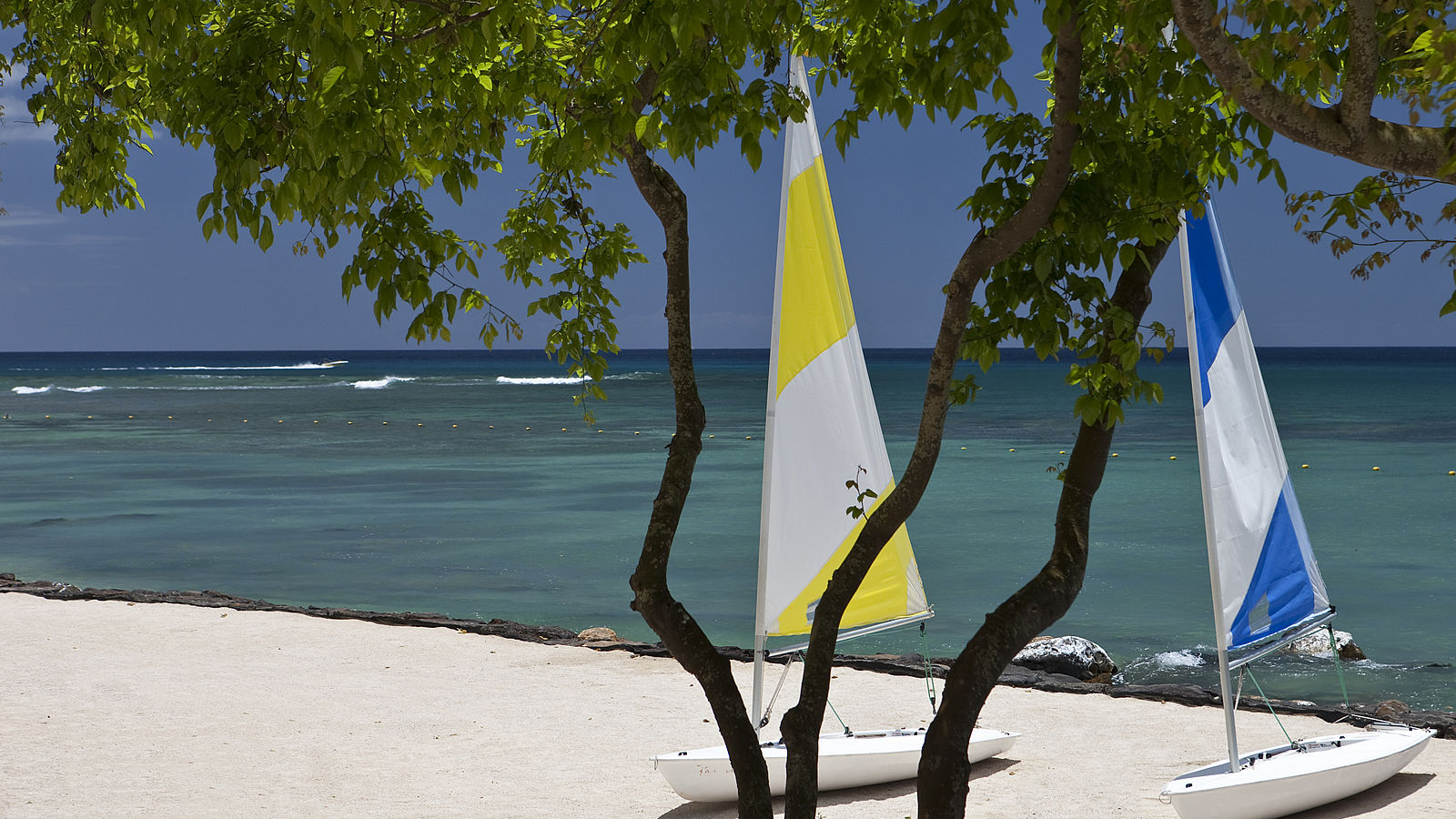 Boasting soft sandy beaches along the shores of the Indian Ocean, The Westin Turtle Bay Resort & Spa Mauritius is a tropical paradise. You could happily spend days lounging by the crystalline turquoise waters of the Indian Ocean, basking in the sun, sipping refreshing drinks, and getting up only to dip your toes in the lapping waves.
For the more energetic, however, we have countless options, such as scuba diving, glass bottom boat, water-skiing, sailing, pedal boats, snorkeling and more. The resort is situated right on the natural marine park of Turtle Bay, which offers unsurpassed snorkeling and scuba diving. *Some of the services and facilities above may not be available on a 24-hour basis or without advance request. Fees on certain facilities/services may apply.
Our scuba diving operates upon reservation. All levels are accepted including beginners. For people aged under 18, parents' approval is necessary. A medical form will need to be completed before diving. Additional world-class dive sites and snorkeling are found nearby, all easily accessible with day tours. Resort associates are happy to help you book tours, rent equipment, or figure out other ways to take advantage of our wonderful beach setting. For more information on the water sports available at the hotel, please contact the Service Express®.
Mauritius is not only on land but also underwater a real garden of Eden. Clear turquoise seas, an abundance of live coral reefs and beautiful tropical fish. The west coast of Mauritius is a region with a variety of interesting dive spots, with water temperatures ranging from 22° Celsius in winter (5mm wetsuit) to 28° Celsius in summer (3mm wetsuit). Average visibility: 20 to 25 meters. There is no typical "diving season". Beautiful conditions exist all year round but the visibility can, of course, be affected by waves, plankton, tides or rain.
THE DIVE SPOTS
Pointe Aux Biches (5 to 12m): A very attractive small reef with a big variety of soft and hard coral and an abundance of tropical fish. The ideal spot for beginners and for experienced divers interested in macro photography.
Holts Rock (21m): The dominant landscape feature of Holts Rock is the presence of huge basalt rock of volcanic origin some larger than an average-sized Mauritian house.
Stenopous Reef (28-38m): It is a very picturesque dive site containing many interesting features, such as tubastrea corals of more than 2m in height. There are large fan corals which decorate the walls of a drop off, and a wide variety of soft corals. Another interesting aspect of the dive is that, while it has a large number and a wide variety of tropical fish, many pelagic fish species can also be seen there because of the site's exposure to the deep waters of the open sea. Kingfish, wahoo, stingrays, white tip sharks and tuna are frequent visitors of the dive site.
Water Lilly and Emily (wrecks) (23-26m): These two barges were scuttled to make artificial reefs and lie about 30m from each other. The marine growth on the wrecks is moderate but a wide variety of fish can be seen. These include Moorish idols, powder blue surgeonfish, kingfish and shoals of fusiliers. A number of eels have also made their home in the different corners of the wreck.
Scorpion fish and stonefish can be seen on most of the dives. This Japanese trawler was purposely sunk in 1987 by the Mauritius Marine Conservation Society. The marine growth on the wreck is moderate. The real attraction of this dive lies firstly, in the spectacular sight of a ship lying, still virtually intact, on the floor.
PADI AND CMAS COURSES:
Under direct supervision of an instructor, the participant can ''try out'' Scuba Diving. First in the pool, then in the sea the same day. It's fun, one discovers a new fascinating world and it's absolutely safe!
PADI OPEN WATER DIVER (OR CMAS*)
After this entry level the candidate is qualified to dive anywhere in the world without supervision (International Certification). A safe and enjoyable course for the whole family!
PADI ADVANCED OPEN WATER DIVER (OR CMAS**)
The candidate will develop skills which give him more confidence. He will also become acquainted with deep diving, navigation diving and eventually night diving, search and recovery, wreck diving etc. Prerequisites: PADI Open Water Diver or equivalent.
PADI RESCUE DIVER
This course teaches how to recognize diving problems, prevent accidents and handle diving emergencies if they occur. Prerequisites: PADI Advanced or equivalent and Medic First Aid
PADI DIVEMASTER (OR CMAS***)
This course was designed to teach how to supervise divers in training and how to organize and conduct diving activities. The PADI Dive master course introduces to a professional level of diving.
Prerequisites: PADI Rescue or equivalent
Our equipment meets international standard requirements:
Bottle: 12 liter steel, DIN or INT on demand, 200 bar, tested regularly

Wet suit: 5mm neoprene

Regulator: fitted with additional second stage

Pressure gauge

Depth gauge

BCD jacket with inflator

Mask

Snorkel

Fins: closed

Weight belt: with 1kg weights

Torch: on night dives
COMPRESSORS:
All compressors from BAUER Germany, 220 bar.