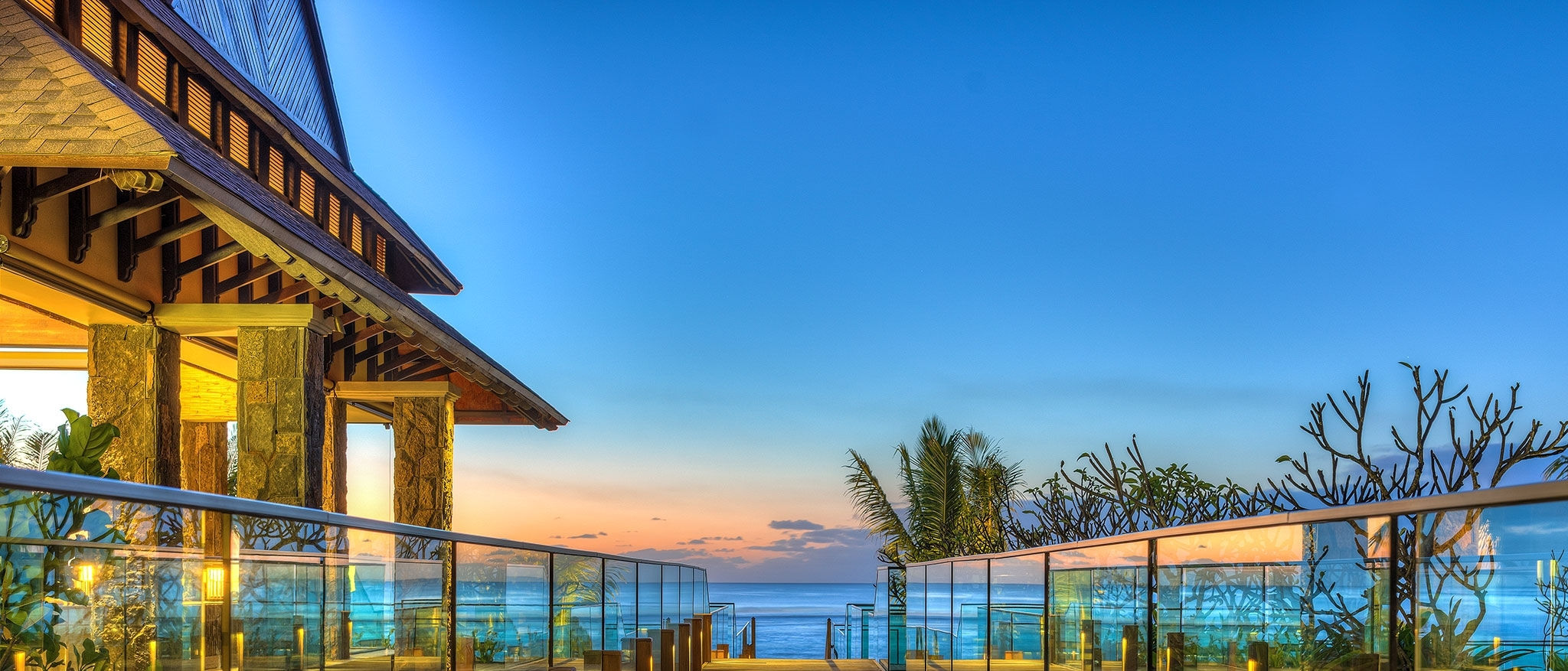 EAT, DRINK & RELAX IN STYLE
RESTAURANTS AND BARS AT THE WESTIN TURTLE BAY RESORT & SPA MAURITIUS
Delicious healthy produce, the finest exotic ingredients, a rich variety of cuisines including delectable Mauritian fusion and authentic contemporary Indian, and the imagination of Mauritius's most renowned chefs are the recipe for an unforgettable culinary experience. From revitalizing smoothies to classic Martinis, to spectacular cocktails and everything in between, each one of our drinks menus features a uniquely inviting selection. To further stimulate your senses, our restaurants, lounges, grills and bars blend contemporary décor with traditional tropical comfort and a vibrant beachfront atmosphere.


Allow yourself to unwind in cool relaxing interiors or the lush and invigorating great outdoors, while we treat you royally. Westin Turtle Bay Resort & Spa Mauritius offers an irresistible range of delicious and healthy dining options served in exotic, tropical surroundings. Indulge in delectable Mauritian fusion cuisine, authentic contemporary Indian flavours, adventurous interpretations of popular pan-Asian and western dishes and beach grills made using only the freshest ingredients. With a unique selection of beverages, the main bar and beach lounge and bar are where you can choose between cool relaxing interiors or the lush, invigorating great outdoors. We are here to help you treat yourself royally, wherever you choose to unwind.
DRESS CODE POLICY
Elegant casual dress for women and long trousers for men in the evening. Shorts and slippers are not accepted in restaurants and bars at night.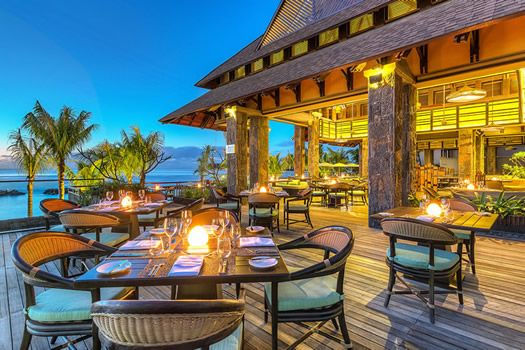 SEASONAL TASTES RESTAURANT
Seasonal Tastes provides all-day dining in a delightfully landscaped seaside-garden setting, chosen daily from a constantly changing variety of cuisines at island-style cooking stations. Fresh, nourishing produce and imagination are the ingredients for recipes that combine pan-Asian and eclectic international cuisine prepared in the open kitchens. Whatever your individual taste, Seasonal Tastes has something for you to enjoy. Dine under a parasol on the gently curving sandy beach or in the calming shade of our flower-filled courtyard. Or, if you prefer a more intimate setting, enjoy your meal next to the gently cascading pools of soothing water surrounding the restaurant.
More information
All Day Dining Venue
Interactive, experimental, original, fresh, imaginative, personalized
This is a dinner-time venue, no lunch is served
Seating: 250+ indoor and outdoor seating
Entertainment: Contemporary Easy Listening to reflect the mood of the day (breakfast, lunch, dinner)
Service Type: Buffet food service + In Room Dining
Opening Hours: Breakfast: 06:30 – 10:30, Lunch: 12:00 – 15:00 (only if bad weather), Dinner: 19:00 – 22:30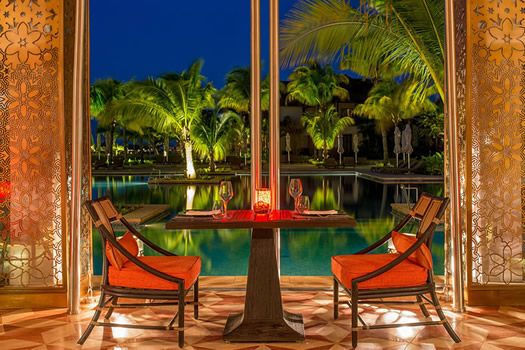 KANGAN
Kangan, the vibrant, modern Indian restaurant in a wonderfully exotic, tropical environment is the place to discover intriguing new flavors. Our authentic menu features irresistible classics and original, contemporary re-interpretations for a sensationally exotic culinary experience. Banquettes, hanging seats and a large show kitchen highlighting the traditional tandoor ovens create a vibrant and colorful setting accompanied by lounge music inspired by the Orient. Discover colourful maharajah-style dining and share the fun with the family in shimmering light reflected by glittering patterned screens and brilliant skylights.
More information
Indian Restaurant
Authentic vibrant colorful contemporary fun
This is a dinner-time venue, no lunch is served.
Seating: 80 indoor and outdoor seating
Entertainment: Contemporary Indian/Oriental lounge music (non-vocal), no live entertainment
Service Type: Family – style food service / A La carte Restaurant
Opening Hours: Dinner : 19:00 – 22:30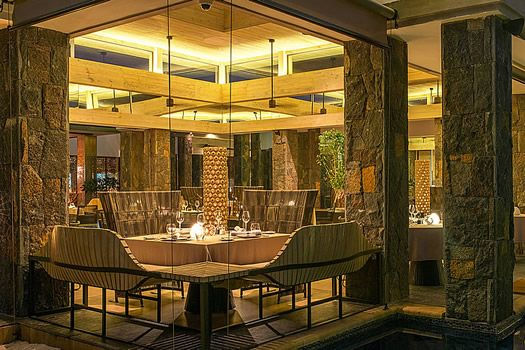 FUSION
Sophisticated Fusion specializes in a contemporary interpretation of cuisines from the rich Mauritian cultural heritage. Produce from the island's abundant tropical gardens are carefully combined with the finest ingredients to create a subtle balance of exciting flavors, inviting you to experiment with innovative and alluring dishes. Re-ignite your taste buds!
More information
Contemporary Mauritian Fusion Restaurant
Innovative, petite, sophisticated, upscale, unique
This is a dinner-time venue, no lunch is served
Seating: 40 indoor and outdoor seating
Entertainment: Modern Lounge
Service Type: A La Carte Restaurant
Opening Hours: Dinner : 19:00 – 22:30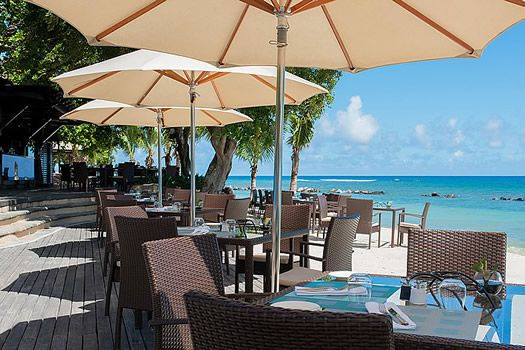 BEACH GRILL
Authentic in concept and natural in design, Beach Grill is where you can unwind and sink into a revitalizing holiday mood. Beach Grill beach- and poolside restaurant makes the grill perfect for a long, lazy laid-back lunch right in front of the turquoise sea listening to the lapping of the waves. In the evening, weather permitting, Beach Grill hosts spontaneous lantern-lit barbecues for a relaxed dinner under the stars. Offering a plethora of tender, mouth-watering meats and succulent fish and seafood, Beach Grill takes pride in preparing your selection to perfection. Create the meal of your choice at one of the grill stations on the sand or deck. After you've eaten, take it easy on one of the sling-style seats to the sounds of gentle, funky tropical music.
More information
Beach Grill
Casual, Romantic, Relaxing, Indigenous
Seating: 55 outdoor seating
Entertainment: Relaxed easy listening, tropical tunes, more softer bossa nova Brazilian at night
Service Type: The overall service in the restaurant will be lively yet efficient. At all times staff will be bright, enthusiastic friendly and helpful
Opening Hours: Beverage pool & Beach: 9:00 – 18:00, Lunch & Beach: 12:00 – 18:00, Dinner: 19:00 – 22:30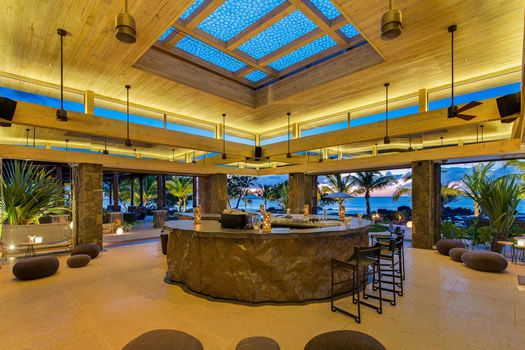 MYSTIQUE BEACH LOUNGE & BAR
Designed around contemporary bar and lounge concepts incorporating comfortable sofas inspired by the organic shapes made by the sea, Mystique is where guests of all ages meet to eat, read, mingle, relax and party. During the day, delicious, healthy salads, sandwiches, pastas and comfort food are served at Mystique. Come sundown, our resident DJ sets the mood with music that soothes, inspires and revives, while the sea laps gently at your bare feet. After twilight and into the night, expert mixologists shake or stir an eclectic selection of intriguing cocktails, including Mauritius's largest selection of Martinis – classic and with a twist. Nights at Mystique are magic for the soul.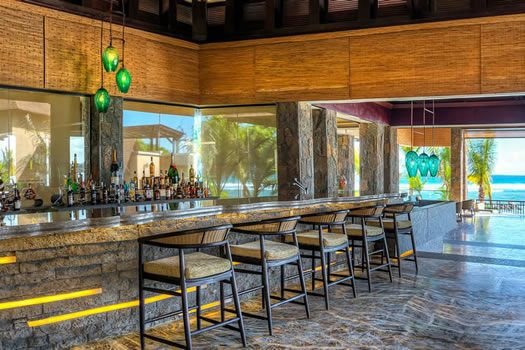 THE RETREAT
Our main bar, The Retreat, looks out over multi-tiered pavilions with a wonderful view of the beach and the clear blue sea beyond, reached by crossing a little wooden bridge from the main restaurant, Seasonal Tastes. A shady beachside lounge filled with restful filtered light during the day, The Retreat takes on a smooth jazzy bossa-nova vibe after dark. Our dedicated mixologists are happy to prepare the cocktail, sundowner, aperitif or after-dinner drink of your choice. If rum is your tipple, you'll be delighted to discover that The Retreat stocks Mauritius's largest selection of local and international brands.
More information
Main Rum Bar
Tropical, relaxed, airy, soothing, inviting
Seating: 92+ indoor and outdoor seating
Entertainment: Contemporary lounge during the day, smooth easy-listening, jazz, bossa nova during the evening & at night
Service Type: Arrival cocktail, aperitif & digestives
Opening Hours: 10:00 – 23:00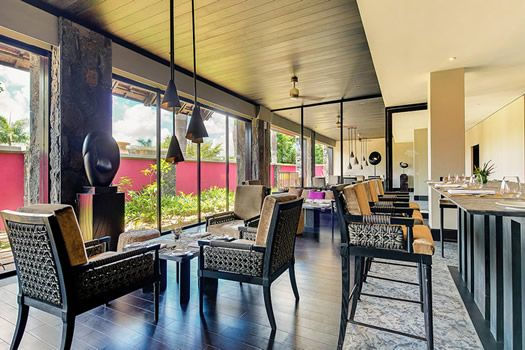 WESTIN EXECUTIVE CLUB LOUNGE
Accessible to guests booking the Club Room & any Suite category
24 hour access to Club Lounge
All Day complimentary coffee, tea and soft drinks
Complimentary wireless internet
Continental Breakfast: 06:30 - 14:00 (On-demand continental breakfast 10:00 - 14:00)
Complimentary afternoon tea and snacks: 15:00 - 17:00
Complimentary Westin Unwind Cocktail: 17:00 - 19:00
Luxury changing & showering facilities
Preferential luggage handling and storage